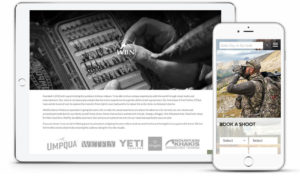 What is a landing page?  It's a page that someone can land on. A landing page, however, is strategically written and designed with a specific purpose determined by business objectives. The end goal of a landing page: conversion. If you want to generate leads, learn more about your audience, or improve your marketing efforts, you need a landing page.
What are the basic components?
Images
The right image is worth a 1,000 words especially when it comes to conversions on your landing page. Use on-brand images that evoke emotion and increase the tangibility of your product or service. For example, using an image of real people enjoying the benefits of your product or service is more effective than an unbranded, impersonal stock photo. Because Google can't "see" images, adding alt text or image titles helps the search engine recognize and categorize your image. Lastly, make sure your image is a high quality because no one likes a blurry photo.
Most people will spend a short time on your landing page, even when you've spent hours writing 500 words of copy. Landing pages are meant to be straightforward. Your headline needs to grab a visitor's short attention span. In a few words, tell your visitors what benefit or what value they can expect from converting. Create a compelling headline, but be clear and concise.
Copy
Once you've piqued your visitor's interest with an effective headline, the body copy of your landing page is where you elaborate the benefits of your product or service. Keyword research should guide your word choices, but keep in mind that you still want to be brief. You can break up the copy by using headers and bullet points. This makes it easier for the visitor to know what's important. Remember to ask yourself: how are you going to solve your potential customer's problem? What can you provide that your competitors can't? Another way to provide value to visitors on your landing page is by sharing a customer testimonial or a case study that support your claims.
Call-to-Action
Last, but not least is the call-to-action or CTA. This is the part of your landing page that tells visitors what they should do to convert. CTA's are usually made in the form of a clickable button. Basic examples are: "Buy Now" or "Start Your Free Trial." When choosing the best CTA for your page, it's essential to test different colors, where the CTA is placed and CTA copy to determine which one gets the most conversions.
A landing page can have more components, but not all are necessary. When creating a landing page, the most important thing to have is one single goal. It eliminates any chance of distraction that would prevent your customer from converting.
The REAL reason why you need a landing page…
A landing page can guide your potential customer to the next phase of your digital marketing strategy. It can be used to promote a campaign, provide an offer or capture contact information— moving potential customers down your conversion funnel. It depends on your objectives and audience. If you want to increase the number of webinar attendance/sign-ups by five percent, you've got yourself a landing page goal. After running your first campaign, you can experiment with changing one aspect of your landing page (i.e. title, call-to-action, etc.) to refine your strategy.
With a thoughtful landing page, you learn more about your audience and what they're looking for when it comes to your brand, product or service. You can take these new discoveries and apply it to your business strategy.
With the right branding, web design and marketing strategy, you can boost your business's digital marketing efforts.
Contact TBI and find out how we partner with you to accomplish your business's goals.
https://tbiadv.com/wp-content/uploads/2018/02/laptop.jpg
550
940
mhabig
https://tbiadv.com/wp-content/uploads/2022/04/Untitled-19-1.png
mhabig
2018-02-13 16:13:41
2018-02-13 16:43:19
Why you need a landing page